Shab-e-Yalda or Shab-e Cheleh is a Persian festival that marks both the longest night of the year and the start of winter.
Yalda is one of the four milestones of the Persian Calendar. This is actually the celebration of the winter solstice because the Persian New Year (Nowruz) will be celebrated on March 20 or March 21, which is the first day of spring. This festival takes place on December 20 or December 21. It celebrates the birth of Mithras, the god of sun. Subsequently, the days grow longer and longer and the light of day prevails over the darkness of night.
The Iranians have celebrated this eve of Shab-e-Yalda by savoring "shab-chele" as well as fruits whose center is red, especially pomegranates and watermelons, because the red represents fire, symbol of the sun.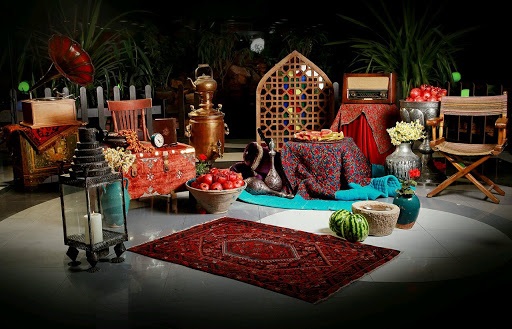 Many Indo-European civilizations have based their calendar on the course of the moon. But Persian cosmologists, astronomers and astrologers in their time created observatories, and daily followed the slight change in solar luminosity. They thus created a calendar that linked these day changes to the seasons. Astrologically speaking, they created what is called the horoscope.
In today's Iran the calendar is an astrological calendar. It has stood the test of time, and the Iranians have four celebrations to commemorate the light and the night. One of the most popular seasonal shifts in Iran (Persia) is precisely the festival of Yalda, celebrated for at least 10,000 years by all Iranians of all faiths. Europeans also celebrate it, some say that Christmas, this vigil to await the birth of the Child Light, would be inspired by Yalda who took the name of Yuletide in Europe.