There are numerous palaces and frescoes at Persepolis, but Tachar Château, or Palace of Darius the Great, and its ancient inscriptions are sufficient to demonstrate the history of Persian language and script from Achaemenid cuneiform inscriptions to Pahlavi Persian. According to Irantripedia, the Persepolis World Heritage Site is working on a series of study motion pictures that will depict the evolution of Persian calligraphy and language in Persepolis' inscriptions. Hormoz Emami directed and Hamid Fadai produced this series.
Tachar Château and Its Inscriptions
Tachar Château is without a doubt one of Parse's (Persepolis') most significant buildings. This palace is significant from two aspects, in addition to archaeological findings. The Museum of Inscriptions is the name given to this palace, as it is to Naqsh-e Rostam. On various inscriptions at Tachar Château, we can witness the history of the Persian language as well as the evolution of Iranian calligraphy.
Referring to the many definitions of the Persian language, Mojtaba Droudy, an expert on ancient languages, remarked: "It is believed that the present Persian language is a series of Middle Persian, which is itself a sequence of ancient Persian." Ancient Persian is only one of the several ancient Persian languages that were formerly spoken in what is now Persia. In the Achaemenid cuneiform inscriptions left by Darius I, Xerxes, and Ardashir in Tachar Château Palace, we see ancient Persian.
He said, "We have an inscription from the reign of Shapur the Second of Sassanid at Tachar Château Palace in Middle Persian (Pahlavi), in addition to the inscriptions of the Achaemenid rulers." As a result, following the cuneiform, these Pahlavi inscriptions may show the growth of calligraphy and, of course, the Persian language for us.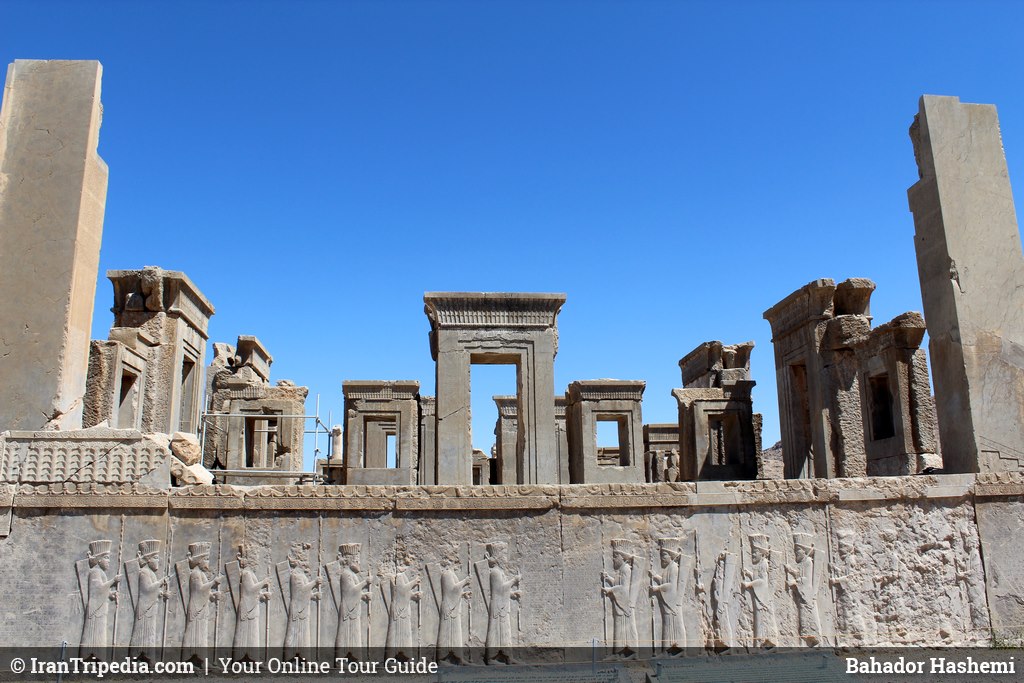 In Tachar Château, apart from the ancient inscriptions, there are about 70 inscriptions. Droudy, referring to this fact, added that "Among the most important of these inscriptions, we can mention two inscriptions related to Azd al-Dawla Dailami, which is in Kufic script. This calligraphy was common during the third and fourth centuries AH. This inscription can be seen next to the inscriptions of Shapur Sakanshah. It is said that Azd al-Dawla was very interested in ancient culture and ancestors, so much so that it was very important in Sassanid times. Interestingly, there are medals of him who, like the Sassanid kings, sat on the throne and were crowned, and then his image was drawn".
This expert on ancient languages ​​stated: One of the most important inscriptions, which is related to the year 344 AH, dates back to the time when Azd al-Dawlah defeated the Khorasan army and captured Ibn Makan. This writing is a memorial to the victory of Azd al-Dawla. The second inscription, which is referred to Azd al-Dawla, was written in the Iranian Kufic script, which is said to be the ancestor of the Naskh script, which later appeared in Iranian calligraphy. According to this text, Azd al-Dawla asked two people to come and read the ancient Tachar Château inscriptions in Persepolis. It is probable that they read the Pahlavi inscriptions of the time of Shapur II. It is important to note that until the third and fourth centuries AH, there were people who were familiar with the Pahlavi calligraphy.
History of Tachar Château's Inscriptions
According to Droudy, another Kufic inscription in Tachar Château Palace belongs to Baha Al Dawla, son of Azd al-Dawla, dating to 392 AH. This inscription also shows the prevalence of the Kufic script at that time, although another person in 1927 put his name in Latin on this inscription. The important point is that tourists, businessmen, people who had military and political responsibilities of other countries, in different times that have come to Shiraz and Persepolis have left their marks and symbols that have found a historical aspect today.
Pointing out that we know that the Timurid Empire was interested in art, he said about the art of calligraphy and its evolution: Calligraphy was very popular at that time, as much importance was given to writing and recording the Shahnameh. Therefore, in Tachar Château, we see four inscriptions of Ibrahim Sultan Ibn Shahrokh Teymouri, which are in his own handwriting. These inscriptions have a mystical content and are from Saadi's poems and the evolution of Persian calligraphy is recognizable in these inscriptions.
ILNA