Arbor Day was first established by Julius Sterling Morton of Nebraska on April 10, 1872, and has since been celebrated in various lands. In Iran, as it comes the time of spring and Nowruz, the 15th to the 22nd of Esfand month has been named as the week of natural resources. Calling 15 of Esfand to Arbor Day is due to the special climate of our country and the most suitable time for planting trees and plants.
Planting trees and arboriculture has a long history in Iranian culture. And Iranians have held the status of a tree and planted trees in their celebrations and rituals. In ancient Iran, every Zoroastrian who had a child had to plant a sapling or tree in his name at the same time of childbirth. This tree grew and grew with that child, and despite the passage of thousands of years, this ancient tradition still exists among Zoroastrians. In addition, arboriculture was also considered a form of worship.
History of Arbor Day in Iran
Arbor Day has a long history in Iran. Cyrus the Great, the founder of Iranian civilization, ruled over a vast land, whenever he reached land, he ordered the people of that land to plant trees and gardens, and he called those gardens "Pardis". In fact, Cyrus meant the campus of very large and beautiful gardens adorned with stout trees and beautiful flowers and rivers flowing through the trees. The interpretation of campus or paradise in Roman and Greek books is taken from Persian gardens.
Pasargadae as the capital of Cyrus the Great is one of the unique examples in the field of planting gardens and the method of irrigating these gardens using ponds and streams. Pasargad Garden consists of four plots and is in fact the most original garden or campus in Iran.
Plants, especially trees, have always had a prominent place in the biological, religious, social, and cultural structure of Iranians. Iran, as an ancient civilizable and cultured land, has been the origin of domestication of many plants and in the course of production, technology, and plant extraction, while economic and social development, cultural and folkloric elements were formed in the form of thought, speech and behavior. These forms led to the creation of Persian myths, national and regional myths, rituals, and religious and magical beliefs in which the plant element played an inseparable role. This shift in the material function of plants to their spiritual function caused some of them to even attain the status of plant gods in popular belief.
Basically, the sanctity of plants and trees stems from ancient myths, where every flower was a symbol of a god and every tree a dwelling place of a maiden or angel. These beliefs give these plants supernatural and mysterious properties that increase their degree of dignity. One of the constant characteristics of this group of plants is that they go to heaven, their sap gives immortality, and for this reason, they are called plants (trees) of life, and the plant itself never perishes. Sometimes they take on such a mysterious aspect that their identities remain shrouded in obscurity, like the plant of Hom and the forbidden tree of paradise.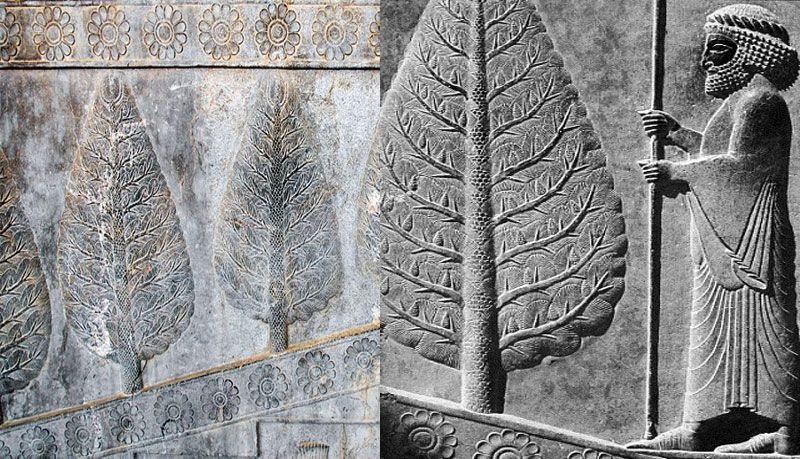 Trees and arboriculture in ancient Persia
Cypress, fig, pomegranate, case, and sycamore were among the most sacred trees among the Iranians. The precious beliefs and customs that our ancestors inherited from us have been forgotten for centuries, and only one day of the year is symbolically dedicated to the celebration of green gold.
In Iranian civilization, the conical appearance and the shape of a cypress tree, which is a manifestation of the shape of a flame of fire, turned it into a symbol of the sacred fire, and the pleasant smell of its wood was used to ignite and perfume the sacred fire. According to Zoroastrian narrations, it was Zarathustra who brought the cypress from heaven for the first time and tried to cultivate it on earth, and even prayed for it. Basically, the sanctity and reverence of the cypress tree by turning on the light under it on Friday nights, interfering with it, and not cutting its branches, is a ritual leftover from Zoroastrian beliefs. One of the oldest cypresses in Iran is the 4000-year-old cypress of Zoroaster in Abargo near Yazd.
Pomegranate was also considered a blessed and sacred plant due to its greenness and plumage, which was a symbol of fertility. Basically, Zoroastrians consider the branches and fruits of the pomegranate tree sacred and use them in religious ceremonies. In fact, the sacred and ritual plant of Barsam is the same pomegranate tree twigs that were usually planted in fire temples.
Plane (Chenar in Persian), pomegranate, elm, maple, yew, linden, and boxwood trees are other trees that are considered sacred due to their greatness, large diameter of the trunk, old age, elongated trunk and lots of leaves and greenery, and sometimes along with strange appearance. Planetree is native to Iran and farmers call it the king of trees. Plane trees are famous for their greatness, fertility and greenery in different parts of Iran. In principle, tress, especially Chenar tree, is one of the constant elements of shrines and holy places in Iran.
Looking deep into the historical sources, we find that in all the rituals and sacred ceremonies, plants and tree planting were present. This is not so strange, because flowers and plants have always been praised by human beings as beautiful and attractive creatures. The same value was attached to plants caused plants to be given a special place in almost all ceremonies, whether happy or sad.
At the beginning of spring and ancient Nowruz, it is a good opportunity to make a green settlement with our motherland. We are going to leave this ancient land with all its beauties and charms to our children for its development, greenery, and preservation. Arbor Day is a good opportunity to pay our debt to our land, Iran.