Simorgh (Sirang) is a mythical-legendary bird in Iranian literature and culture that plays an important role in the stories of Ferdowsi's Shahnameh. "Konam" is the name of his nest where is located in the mythical mountain of Qaf, he is wise and knows the hidden secrets. Simorgh takes Zal under his wings and helps Rustam in his battles. Apart from Shahnameh, other Persian poets such as Attar have spoken about Simorgh in Mantiq al-Tair.
History of Simorgh
The imaginative human being has long been creating myths in his mind to satisfy his wondrous nature, which has helped to enrich the literature. The history of this mythical bird in Iranian legends goes back to ancient Iran. Simorgh is a Persian word shortenedof "Sinmorgh". In Avesta, the word "Morghosaino" is mentioned and in Pahlavi language, it is mentioned as "Sin Mork". Marghu means chicken and Saeneh means hawk or eagle and apparently was the name of one of the kings of ancient Iran Saino. Morghosaino or Morghosin with a slight change in the Pahlavi has become Sin and in Dari Persian, it has become "Si" which does not refer to the number 30 in Persian at all but means Shahin which has remained as "Sin Dokht" in Shahnameh.
Some believe that the word "sin" or "Si" may have been used to describe the chicken's spirituality. This legendary chicken is a broad-winged bird that nests on a healing tree called "Vispubish" or "Hervisp Tokhmak" which has the seeds of all plants. In the Avesta, it is mentioned that this tree is located in the sea of ​​"Verushka" or "Farakhkart". This wonderful and legendary bird has had extraordinary effects in the field of myth, epic, medicine, mysticism, and philosophy in the cultural space of Iran.
Simorgh in the Sassanid period
In the Sassanid period, the role of this myth has been engraved on many cups, dishes, and various views that remain from that period. The Simorgh emblem is a drawing with a complex structure. A legendary bird with a peacock tail, eagle body, dog head, and lion claws. The views discovered on the western part of the Afrasiab wall, in the city of Samarkand, show a king whose same design, like Khosro Parviz's clothes on the Taq-e Bostan, is embossed on his clothes. Another silk garment from the end of the Sassanid period with the same role is kept in the Sernucci Museum in Paris. A number of pieces of silk cloth, tiles and silver and gold vessels of that time also show this legendary bird in the same form and role.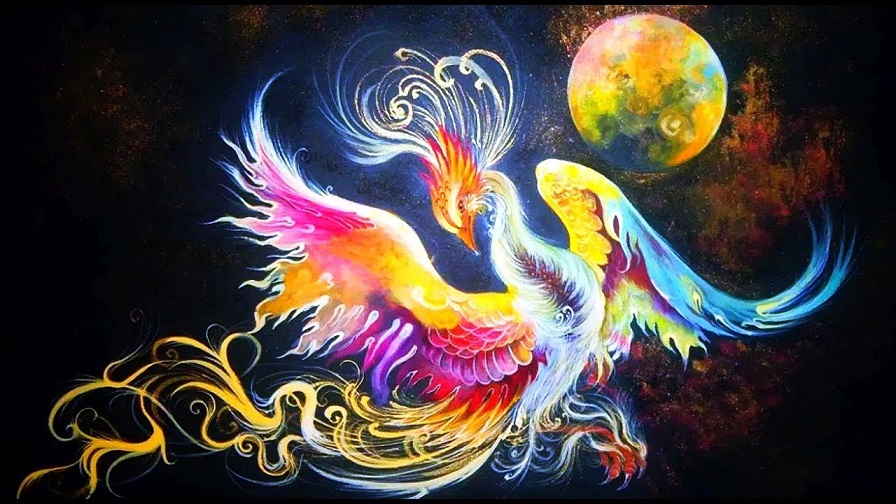 Simorgh in Ferdowsi's Shahnameh
After Islam, Simorgh is also present in both heroic and mystical epics. In Ferdowsi's Shahnameh, this myth has two faces: Ahurai -divine- (in the story of Zal) and Ahrimani -demonic- (Rostam's seven Labours). This is because all mythical and supernatural beings have two opposite aspects to the "dualists". The demonic Simorgh is mostly a dragon chicken. It lacks any sacred talents of the Ahuraian Simorgh and is killed by Esfandiar in the fifth Labour.
The arrival of Simorgh Ahurai (divine) in Shahnameh begins with the birth of Zal. Zal's father, Sam, leaves his son in the desert to die because he was born with white hair. Simorgh, because of the divine love that he has in his heart, takes Zal to his nest and breeds it. When Sam comes to the foot of Alborz Mountain to take Zal with him because of a dream he had, Simorgh gives his fullness to Zal after saying goodbye to him so that he can use it during hardships.
Simorgh helps Zal in two places in Shahnameh. One is when Rostam was born because his newborn baby had a problem due to its size and Simorgh solved it by finding a solution. Another is during the war between Rostam and Esfandiar that Rostam, unable to defeat Esfandiar, succeeds in defeating Esfandiar in the way that Simorgh teaches him. Simorgh also heals the wounds of Rostam's body.
Although Simorgh has a material face in Shahnameh, it has supernatural characteristics and qualities. Its connection with the material world is through Zal. He remains one of the Emshaspandans, gods or angels, whose connection with the material world does not belong to him. Except in the mythological part of Shahnameh, after Islam, we do not have a mythical text in the true sense of the word, which is why Simorgh is the only mythical character that appears in Shahnameh, finds its way to Persian mystical poems and prose, and through a symbolic character. It is absorbed in the elements of Islamic and mystical culture.
In other works
Simorgh does not have a spiritual and metaphysical face in other Persian mythological works such as "Garshasbnameh" by Asadi Tusi. Mantiq al-Tair Attar Neyshabouri is the story of a group of birds that travels head to Qaf Mountain to reach the threshold of Simorgh. Each chicken is depicted as a symbol of a specific group of humans. The difficulties of the road cause the birds to give up one by one. In the end, thirty chickens reach Qaf Mountain and realize that Simorghs are in fact themselves.
Simorgh is sometimes confused with other mythical birds such as Angha, Homa, and Phoenix. Angha is from the root "ankh" and means "holder of a long neck". The common denominator of Simorgh and Angha is "being a chicken" and "being a legend". In fact, Angha is an ignorant Arab myth and Simorgh is an Iranian myth. The mentioned similarities have made the poets and writers of these two mythical chickens sometimes confused with each other, when in fact they have two different origins.