The Deputy Minister of the Iranian Ministry of Cultural Heritage announced Saturday that Iran has become a founding member of the International Tourism Alliance of Silk Road Cities.
Referring to the International Alliance of Silk Road Tourism Cities in 2023, Ali Asghar Shalbafian said that the alliance, which started its work on Friday was formed by the initiative of the Chinese government. "57 cities from 26 countries are present in it, with the possibility of recruiting new members", he added.
Pointing to the presence of Iran as one of the founding members of the alliance in 2023, he continued that the Iranian province of Semnan is a member of the alliance as the representative of Iran. He added that the presence provides an opportunity for Iran to introduce its tourism capacities with an emphasis on the Silk Road and Semnan and to announce its future plans regarding hosting the member mayors of this alliance.
According to Shalbafian, the goals of the formation of this group include establishing joint cooperation in the field of tourism between the countries of the Silk Road on land and sea, synergy between these countries in holding theme-based events in the field of the Road, facilitating the promotion of the local tourism industry and sustainable development, etc.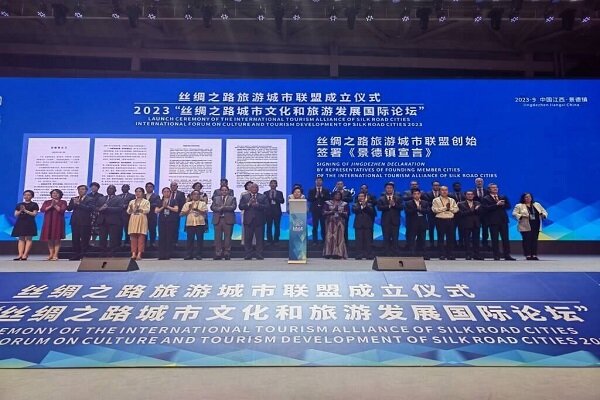 Semnan and Silk Road tourism alliance
Last year, Semnan became a member of the International Union of Tourist Cities Along the Silk Road. About 39 cities of Iran are located on the Silk Road route, and Semnan has the longest Silk Road route of about 600 kilometers.
On September 1, 2023, a launch ceremony of the International Tourism Alliance of Silk Road Cities was held in Jingdezhen, Jiangxi Province, along with a series of other activities, including the International Forum on Culture and Tourism Development of Silk Road Cities 2023.
The Silk Road was a network of Eurasian trade routes active from the second century BCE until the mid-15th century. Spanning over 6,400 kilometers, it played a central role in facilitating economic, cultural, political, and religious interactions between the East and West. The Silk Road derives its name from the highly lucrative trade of silk textiles that were produced almost exclusively in China.
Mehrnews