Chovgan, Chogan, or Chowgan, also called the Persian Polo is a collective sport with horses practiced in Iran and Western Asia, considered the primitive version of the modern game of polo. From time immemorial it was considered a game played by aristocrats, on differentiated playing fields, and with specially trained horses. Today, Chovgan is practiced in Iran, Azerbaijan, Tajikistan, and Uzbekistan.
Imagine living two thousand years ago, in the old world, when it was the rolling time of the kings and emperors and you wonder if you could see and watch a sports game played by the kings, princesses, and royal family! How magnificent does that look?
More surprisingly when you find out that the game you are watching, going to be the ancestor of the most popular game among people in the modern world, a royal game becoming a people game!
That is not just some naive imagination, it is actually a true story. We are talking about the King game: The Chovgan.
Probably the oldest known king game in the world, Chovgan dates back to the old ages of Persian kings in a place which today is known as Iran, and to be called Persia in the past. In English languages, it is called Polo and is quite popular these days in the classic sports category. Not only famous but it is also played Olympic games and has some different varieties like cycle polo and cowboy polo (only played in the U.S).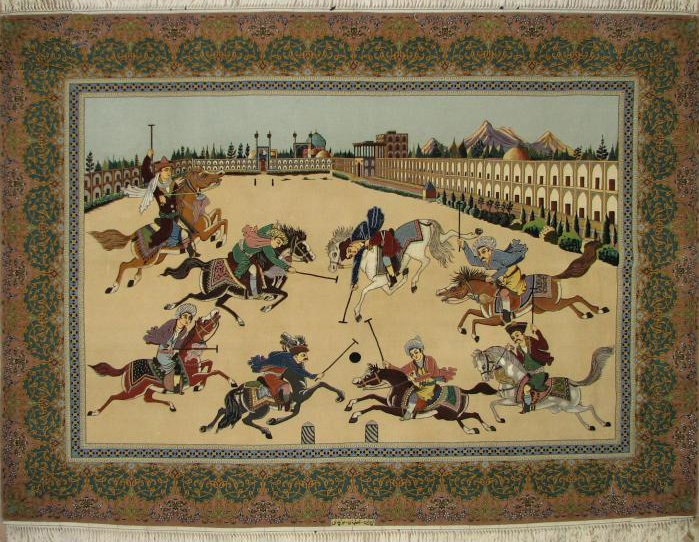 But how old is Chovgan and where does that come from? Well, answers to these questions might not be easy, cause a lot of things in history in its initial days haven't been documented but what we do know for sure is that it is originated from Persia and first was played and got popular in Iran historical borders. Based on a stone transcript found in the Lorestan area, at least it has been played since the Achaemenid era and was brought to India by Darius I, The great, and it was mostly played by the kings of the Sassanid dynasty*, especially in a specific royal battlefield, called Tange-Chovgan in Bishapor city. Later it was copied and brought to Europe by British people, who were in India for colonialism.
Chovgan or Persian Polo is considered to be the ancestor of Football as was indicated in the introduction. Before the adoption of polo in Europe, there was no game to be called Football and therefore, so you could say they invented this game from polo. The only difference is that polo is played on horses. Also, the number of the player is six, and also it is played in some short time sections cause horses to lose a lot of energy while running throughout the playing field.
*Canepa, Matthew (2018). "polo". In Nicholson, Oliver (ed.). The Oxford Dictionary of Late Antiquity. Oxford: Oxford University Press. ISBN 978-0-19-866277-8.