The manual guide to travel by train in Iran
Well, they call "train" the safest way to trip in Iran! I call it the most amazing vehicle you can make a journey with. A fascinating combination of Adventure, Safety, costless and comfortless. A package of good things together, are you looking for more? 😊
So, don't miss this experience. There are more reasons to include too:
First, most of the train rail path in Iran crosses the most beautiful, unreachable areas in the middle of mountain and plains and also jungles (in North of Iran). So wanna see a little bit of everything, choose the train.
Second, you have to chance to take off in a lot of local stops during your trip, so under any circumstances, if you were planning a trip to one of the local or remote places, not easily reachable by car or road, the train is there for you.
Third, it is smooth, it is convenient, it is Nostalgic, especially when you hear that some of them belong to the time of the second world war!
Forth, some of them are so luxurious, similar to a moving hotel, why not have the option of luxury and cheap trip at the same time?
Fifth, the Privacy you get, which is very valuable especially in Iran!
SO many other cool points I can add to the above list, it is really a damn cool way to travel by train in Iran.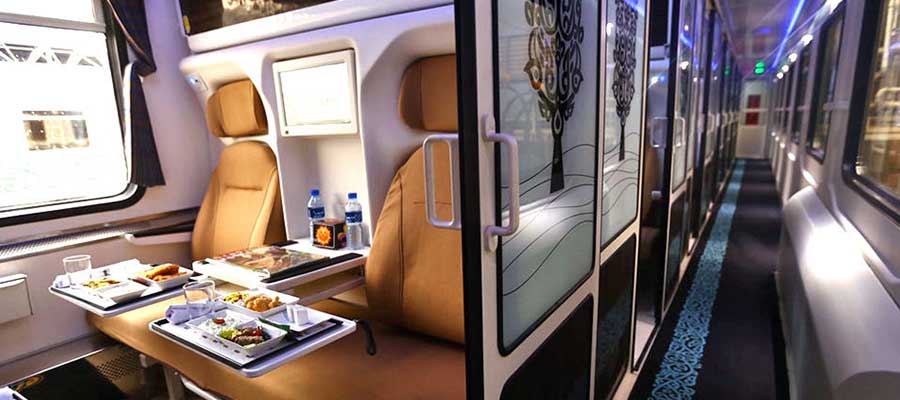 How to get a train ticket in Iran?
And how to get a train ticket then, you may ask! Well, sadly a number of websites that can offer you online ticket services are really rare, due to the fact that you can't use your credit card in Iran, but the good news is that we are here to help you. So, you just need to specify the location and destination and dates, we do the rest and you can pay directly with your credit card, easy-peasy 😊